TGD 243 WIN 55 GR Silver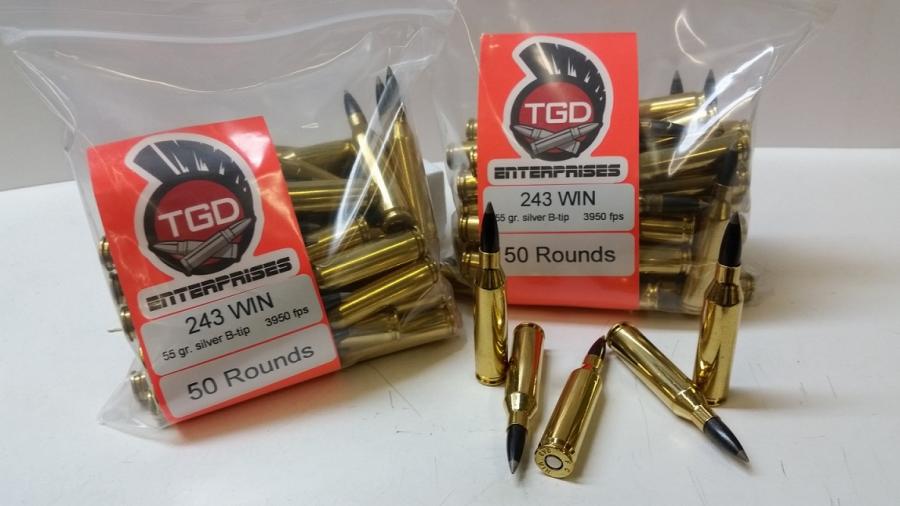 TGD 243 WIN 55 GR SILVER NOSLER BTIP 20 RD
Loaded by TGD Enterprises. The more you hunt, the more you start to realize how unpredictable and unforgiving nature can be, which is why Nosler® engineered the Ballistic Tip® Hunting bullet to be very predictable and extremely forgiving. Whether you're after Whitetails, Blacktails, Mulies or Pronghorns, Ballistic Tip® bullets deliver the kind of accuracy, consistency and down-range punch required for putting down that buck in any situation.

Lubalox ®Exterior Coating

Reduces fouling, pressure and friction between bullet and bore; provides longer barrel life, easier cleaning and enhanced accuracy.

Item Info
| | |
| --- | --- |
| Item | Available In Store |
| UPC | 309947 |
| Brand | TGD ENTERPRISES |
| Mfg No | 243SILBTIP55 |
| Caliber | .243 Winchester |
Tech Specs
| | |
| --- | --- |
| Bullet Type | Nosler Silver Tip |
| Bullet Weight | 55 GR |
| Case Material | Brass |
| Velocity | 3950 FPS |
| Recommended Use | Hunting |
| Rounds Per Box | 50 |